Are you on Team Sweet or Team Savory?
While I do love the occasional sweet treat, at the end of the day I am definitely a savory gal!
Hi! It's Joy from @lunchesandlittles here again, and today I am sharing a very simple, but delicious waffle recipe that is just full of flavors – flavors that you may not have ever had in a waffle before. But, if your taste buds are anything like mine – you need to take note of this recipe and give these waffles a go.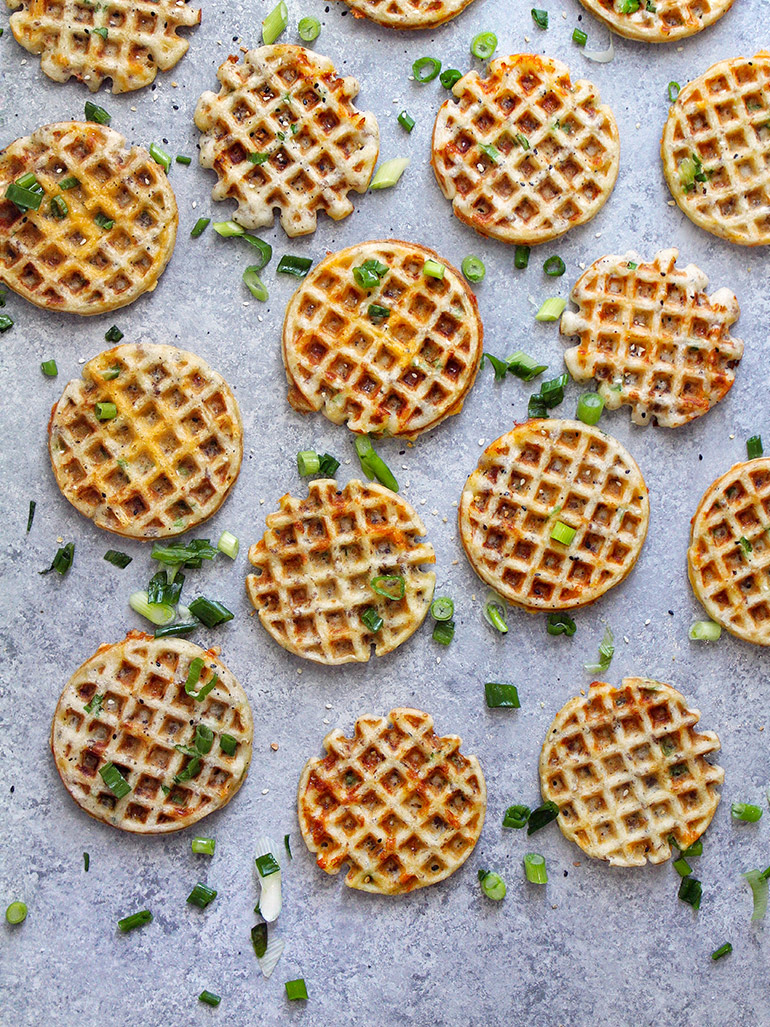 Reminiscent of a delicious breakfast sandwich but waaaaay fluffier, each bite of these waffles include crisp bits of sausage, melted cheddar cheese and more. I could honestly eat these for breakfast, lunch or dinner... (kindof like this salad!)- Don't judge me. Just make them, and then you'll understand.
For this recipe you start with your choice of breakfast sausage  --- you could use this pork one or if you prefer: turkey sausage or even vegetraian Morningstar patties. It's cooked to crispy perfection and then topped with grated cheddar cheese. And if you love fluffy waffles and are worried the sausage and other add-ins might weigh them down – don't worry. Even though the batter gets pretty thick, the waffles are still completely fluffy, not too dense, etc...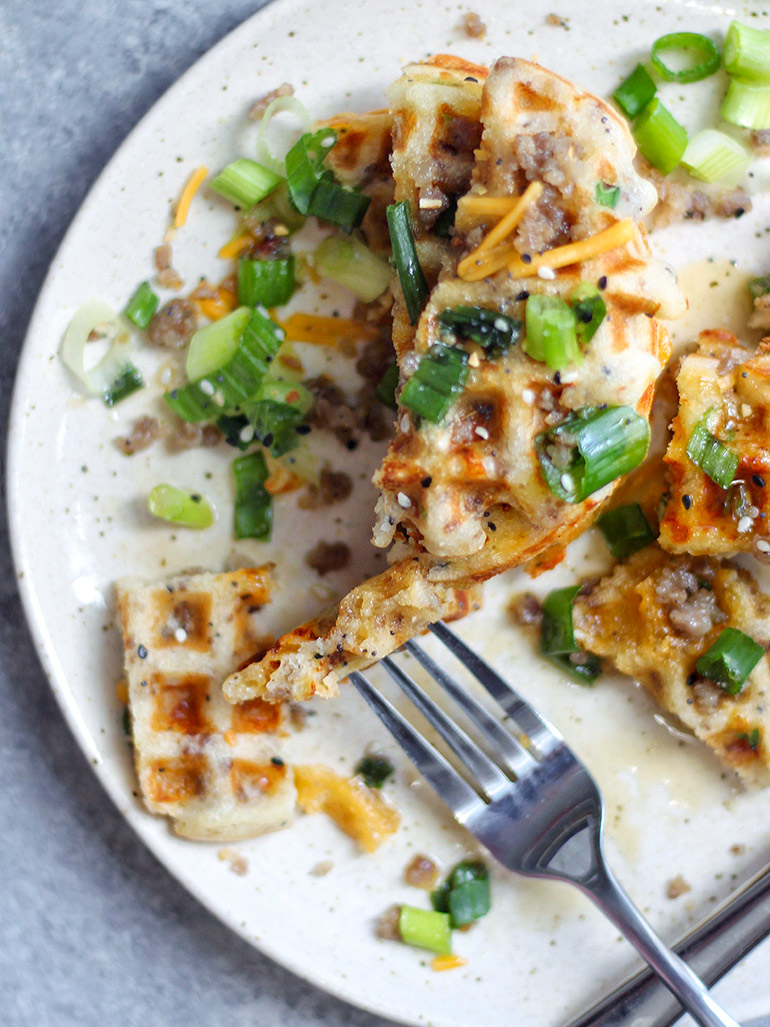 If you don't think savory is your thing, once you make these Mini Savory Waffles w/ Crumbled Sausage, Cheese & Scallions, you may just cross over to the dark (mmmm, savory) side --– at least when it comes to waffles. The recipe is simple and easy to make. You just need a waffle maker! This one is my favvvv.
Top with more sausage and cheese + a little maple syrup and even a fried egg (optional, though recommended!)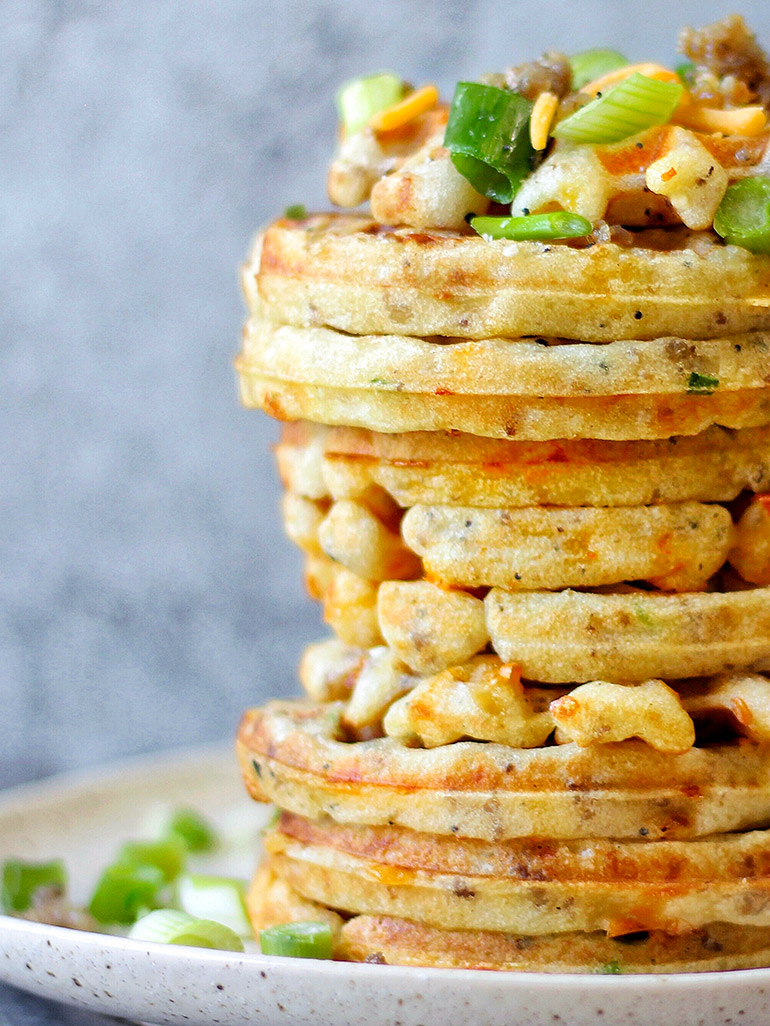 For more delicious, colorful recipes that are both vibrant and nutritious, be sure to check out my feed, @lunchesandlittles, where I am serving up deliciousness on the daily!
-Joy
Mini Savory Waffles with Crumbled Sausage, Cheese, & Scallions
Description
Mini Savory Sausage and Cheddar Waffles
Ingredients
16 ounces
breakfast sausage
1 tablespoon
Dark Amber Maple Syrup
1 1⁄2 cup
grated sharp cheddar cheese
1 bunch
scallions (thinly sliced)
2 cups
Unbleached All-Purpose Flour
1 1⁄2 tablespoon
raw cane sugar
1 tablespoon
Baking Powder
1 3⁄4 cup
Horizon Organic Milk
1⁄2 tablespoon
everything but the bagel spice (from Trader Joe's*)
Notes
*The Everything But the Bagel spice can be purchased at Trader Joe's, or make your own (recipe here).
**You will also need: cooking spray, and additional maple syrup if desired for topping.
Instructions
Heat a large skillet over medium-high heat with just a drizzle of oil.
Once pan is heated, add sausage to pan and cook, breaking apart with a spoon or spatula until the sausage is browned and partially crispy. In the last minute or so of cooking add in the maple syrup and combine. Total cook time will vary, but my sausage took about 6 minutes. Once cooked, remove from heat and set aside.
Next, fresh grate your block of cheese if desired, or if using packaged pre-shredded cheese, measure out 1 and 1/2 cups and set aside.
Then start your batter: in a large bowl combine your flour, sugar, baking powder and salt. Set aside.
In a separate bowl combine the milk, oil and eggs. Whisk ingredients together thoroughly.
Next, gradually pour milk mixture into dry ingredients, whisking until just combined (some lumps here is fine).
Add in your crumbled/ cooked sausage (reserving approximately 1/4 cup if desired for topping), cheese, scallions, and seasoning.
Mix gently until all add-ins are well-incorporated, but don't over-mix. A few lumps remaining is still fine.
Heat your waffle iron per owner instructions. Lightly spray cooking spray into iron and then add enough batter to the iron to make waffles. Every few waffles, be sure to re-spray your waffle iron as necessary.
Once cooked, stack up a couple of your waffles and sprinkle with additional scallions, cheese and sausage, if desired.
A little maple syrup and even a fried egg are also perfect toppings for this dish, though not necessary.
Please note: I used a mini waffle maker for these (I just think mini is more fun!). I used this one here, which yields waffles that are approximately 4 inches in diameter. Recipe made 16 mini waffles.
Yields 16 4" Waffles