Whether you're feeding a crowd or just your family (or your family IS a crowd) these BBQ Jackfruit sliders with pineapple slaw are the perfect summer meal --- good for both your body and the planet.
We love a good vegetarian twist on barbecue. In fact, we even put together an entire post with tips on "How to Throw an Epic Vegetarian Summer BBQ" last summer. 
Now the menu is growing!
The BBQ Jackfruit is the perfect base, while the pineapple slaw and dill pickle rounds add the perfect crunch to these sliders. And of course, serving with chips and fresh cherries is always a good idea.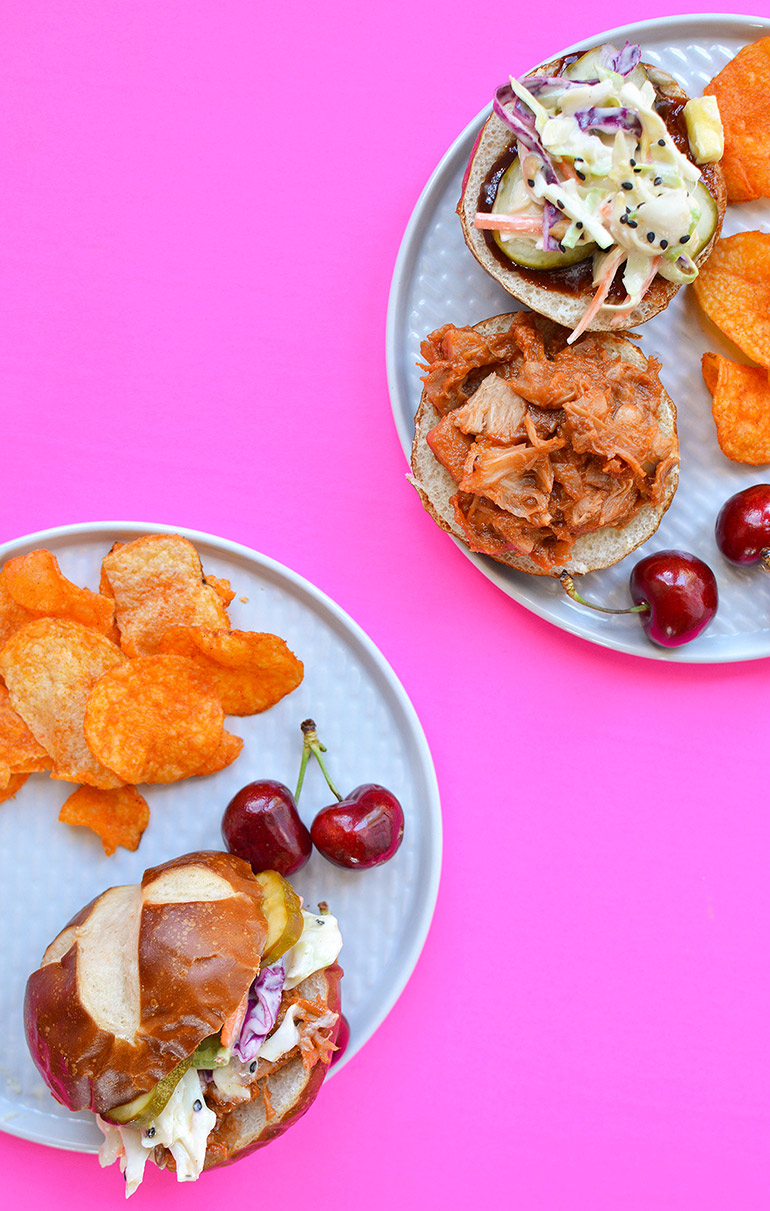 Doesn't this bright pink background and gorgeous pineapple just scream summer?!
The coleslaw features Silk's Dairy-Free Yogurt Alternative --- you can use their Tropical Pineapple one or even their plain vanilla almondmilk one, plus:
shredded cabbage + carrots
fresh pineapple
sunflower + sesame seeds
apple cider vinegar + malt vinegar
lemon juice + lemon pepper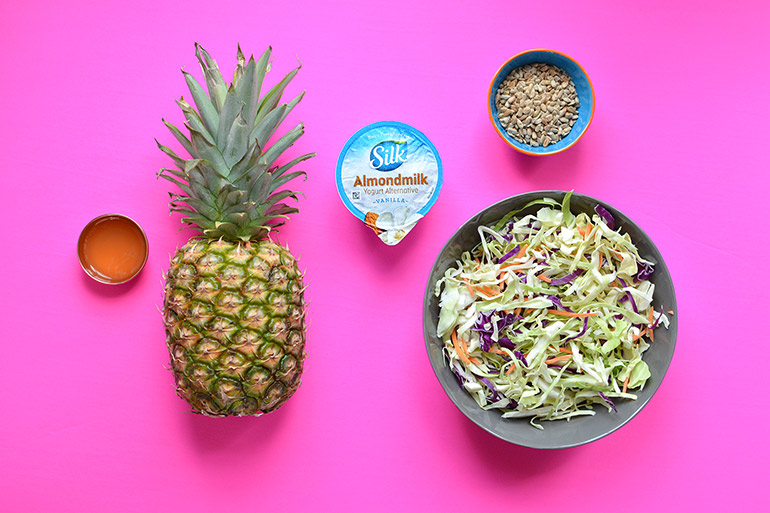 Aren't these pretzel slider buns the CUTEST?!?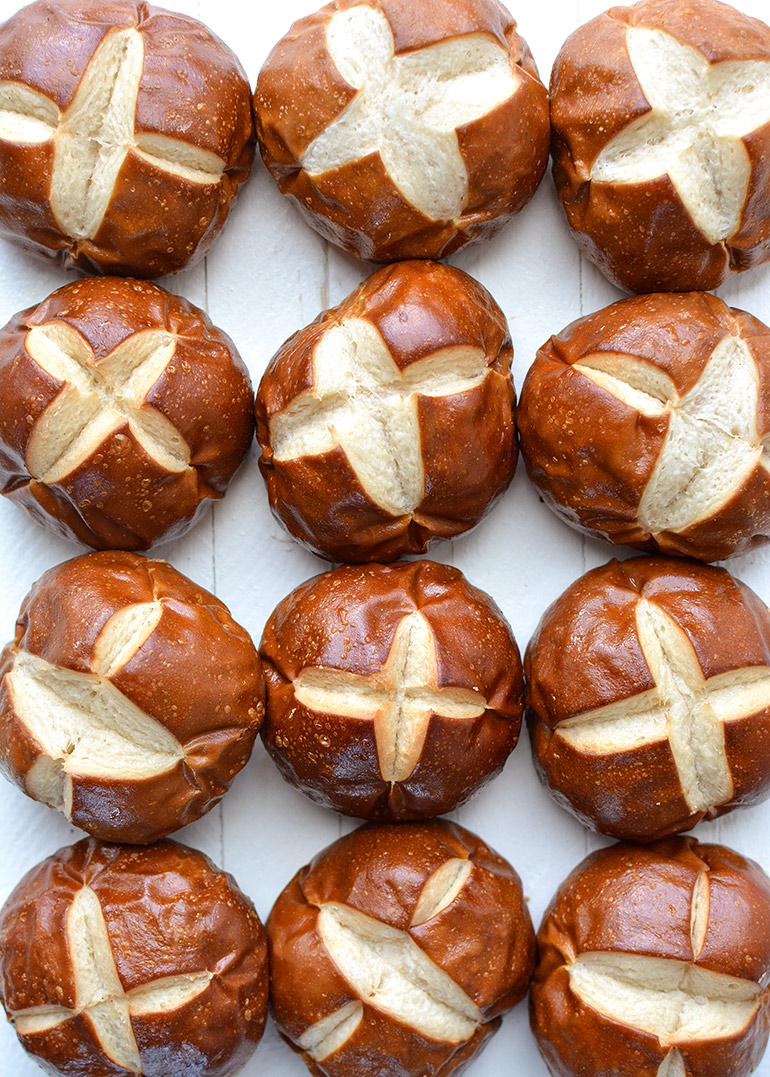 The BBQ jackfruit really does cook up to a similar consistency / texture as pulled pork, but is 100% vegan / plant-based. I find it all very fascinating! Have you ever seen a jackfruit (like the whole fruit) at the grocery store? They are GIGANTIC and end up costing $30+ because it's just so darn much. Buying this pre-packaged version (see packaging at the bottom of this post) is sooooooo much cheaper and simpler. It tastes great too!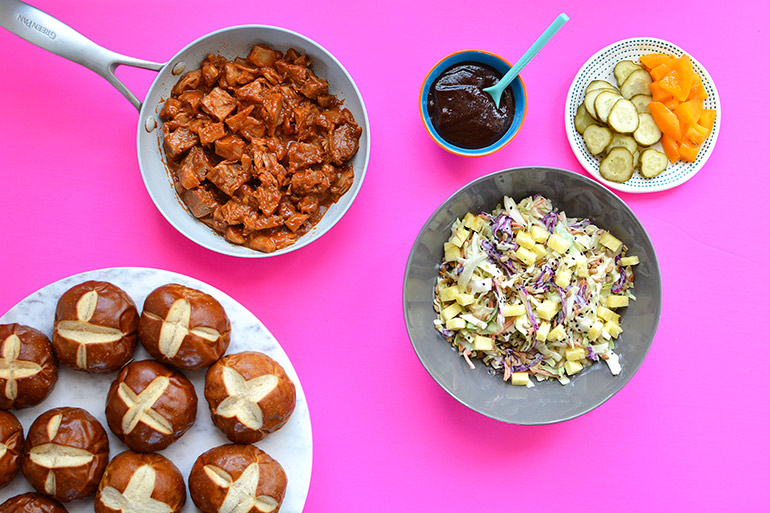 So, grab these items at your local Meijer (or closest grocery store) and get cookin' this summer! Plant-based eating never tasted so good!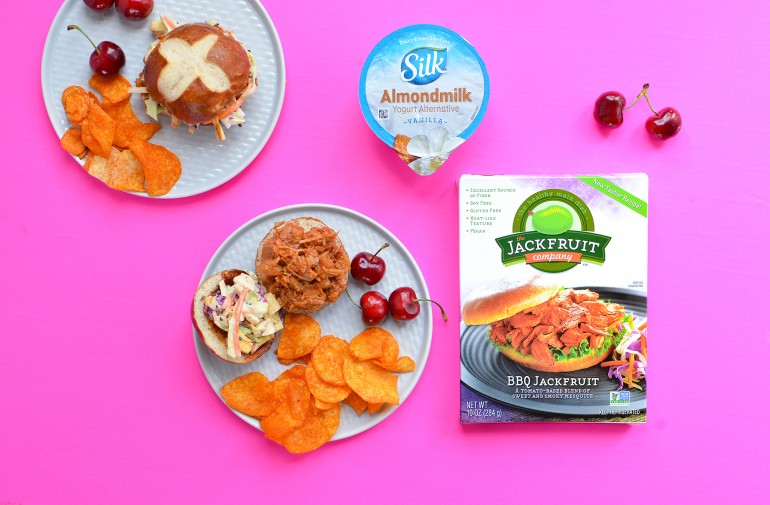 ////////////////////////////////////////////////////////////////////////////////////////////////////////////////////////////////////////////////////////////// Disclaimer: this is a sponsored post written by me on behalf of Silk. The opinions, text, recipe, and beautiful photos are all mine. Thank you for supporting brands that support Nosh and Nourish!! I choose them based on what I already cook/create with and feel 100% confident in recommending to you.
BBQ Jackfruit Sliders with Pineapple Slaw
Description
BBQ Jackfruit Sliders with Pineapple Slaw
Ingredients
8 1⁄2 ounces
shredded coleslaw mix (discard dressing, or use ~6 cups of chopped green and purple cabbage)
1⁄3 cup
diced fresh pineapple
1⁄3 cup
Silk Tropical Pineapple Dairy-free Yogurt Alternative (or sub plain vanilla almondmilk yogurt alternative)
1 tablespoon
Apple Cider Vinegar
1 tablespoon
malt vinegar
1⁄2 teaspoon
black sesame seeds
1 tablespoon
Sunflower Seeds
-----FOR THE SLIDERS-----
20 ounces
BBQ Jackfruit from The Jackfruit Company (two 10oz packages)
2
large dill pickles (sliced into rounds)
1⁄2
an heirloom tomato (thinly sliced, optional)
1⁄4 cup
extra barbecue sauce (optional)
2 cups
pineapple slaw (recipe above!)
Instructions
In a large bowl, combine all of your coleslaw ingredients. Stir until thoroughly combined.
In a large skillet, over medium heat, warm up the bbq jackfruit for 5 minutes, stirring occasionally and breaking up any large pieces with the back of a spoon (directions are also on the box).
Assemble your sliders: On one half of the bun, put a generous portion of the bbq jackfruit. Then on the other side of the bun, spread on a bit of extra barbeque sauce (optional), lay a few dill pickle slices in a single layer, and then add a dollop of the pineapple slaw. Put the two halves together and enjoy!
Serve with chips and fresh cherries (optional, but recommended!).
Yields 6 Servings