Pack ahead, store overnight in the fridge, and enjoy crisp lettuce and delicious toppings the next day at work! This Chinese Mason Jar Salad is vegetarian, vegan, gluten-free, protein-packed, veggie-packed, and delish. PLUS -- be sure to check out the amazing giveaway at the bottom of the post so you can make your own mason jar salads at home!
Featuring Cascadian Farm's Premium Organic Chinese-Style Stirfry Blend veggies topped with water chestnuts, a variety of seeds, pear noodles, almond slivers, mixed greens and a simple, homemade sesame ginger dressing... the flavor combo and textures in this salad are out of this world!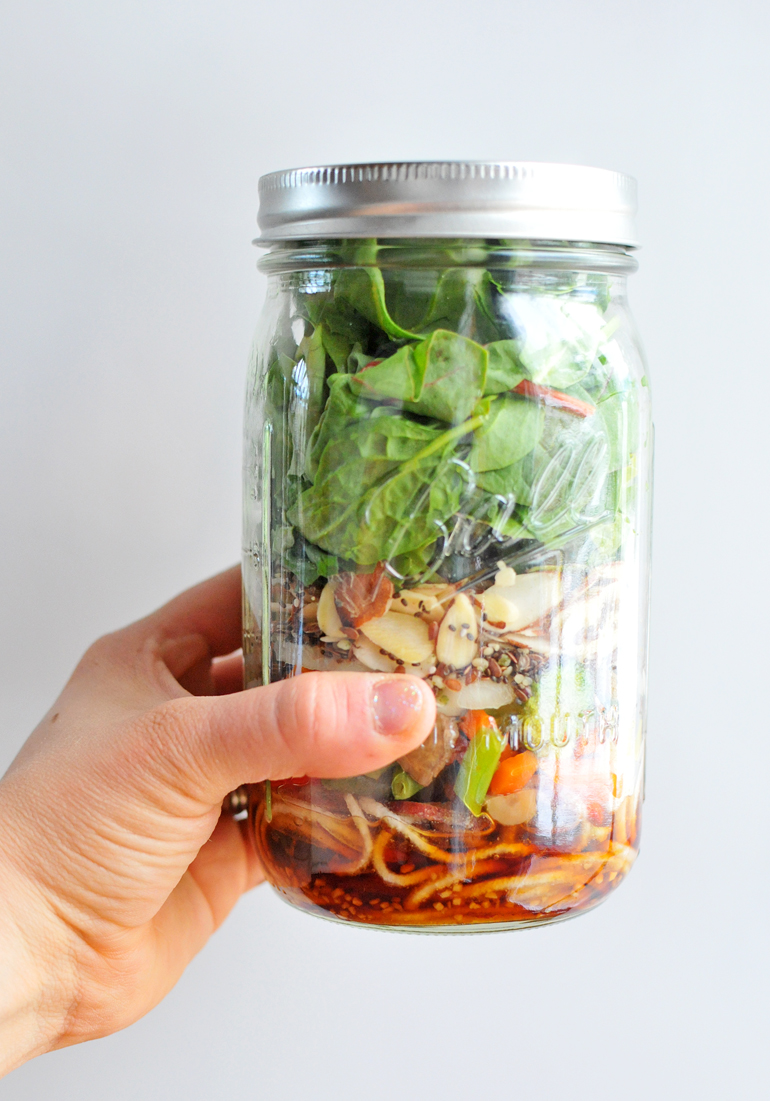 Mason Jar salads are taking over the internet. Seriously, this is a major food trend right now (just take a peek at Buzzfeed, the Kitchn, and Google)! And for good reason -- what a fantastic way to transport healthy, nutrient-packed salads to work without getting soggy!! The strategic layering keeps everything perfectly fresh and crisp:
Dressing on the bottom.
Next up: spiralized veggies (or chopped fruit). They build a nice layer to keep the sauce away from everything else.
Roasted veggies.
Seeds.
Protein: Nuts, Quinoa, Chicken, etc. 
Greens on top.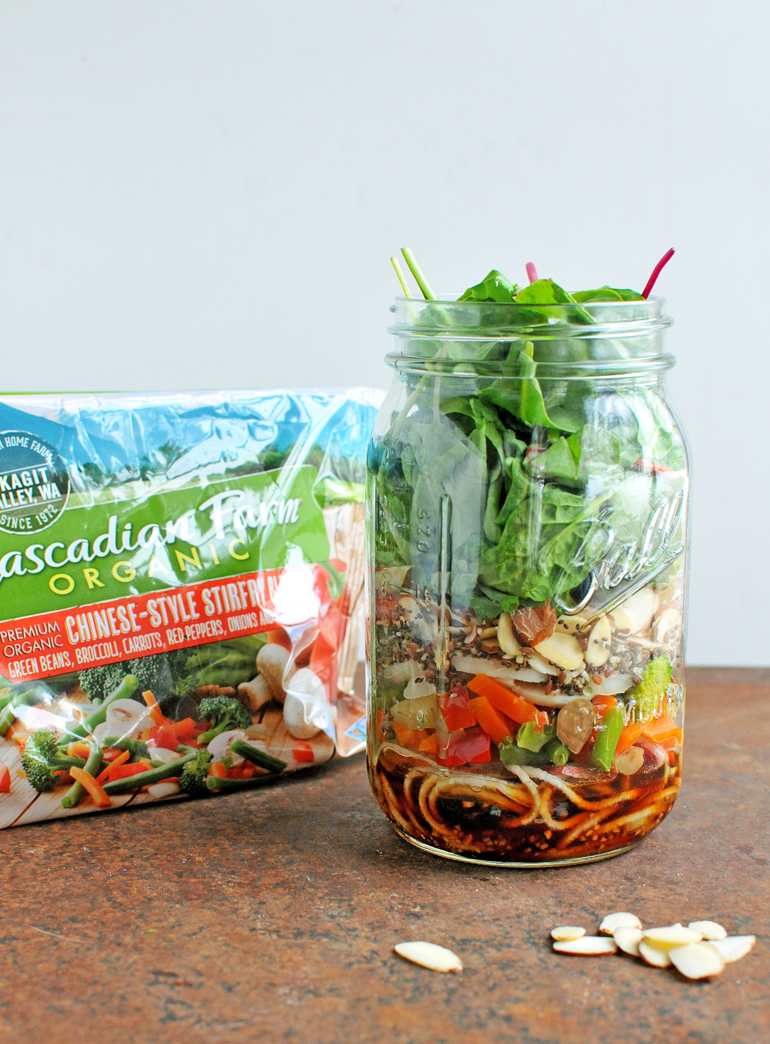 See those gorgeous noodles at the bottom? Well I have a secret for you... they're actually PEAR NOODLES! They add the perfect amount of sweetness to the salad plus a ton of fiber to keep you fuller longer. How did I get such perfect "noodles" made out of a pear? With the Inspiralizer, of course! It's one of my all-time favorite kitchen gadgets, and is such an easy way to get more fruits and veggies into your life. Here's a few of my favorite spiralizer meals:
And I'm so excited to be giving one away to one of my readers (you!). -- see below for details.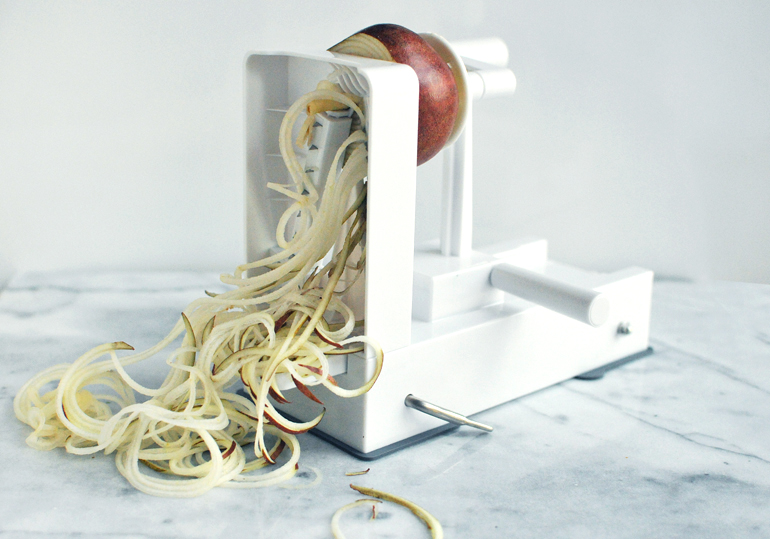 When you get to work and are ready for lunch, empty the contents of the jar into a large bowl and mix it all up. Then, enjoy! I usually do a quick rinse of the mason jar at that same time so that nothing cakes to the side of the jar before I'm able to get it into the dishwasher later that night. I'm all about making things easier!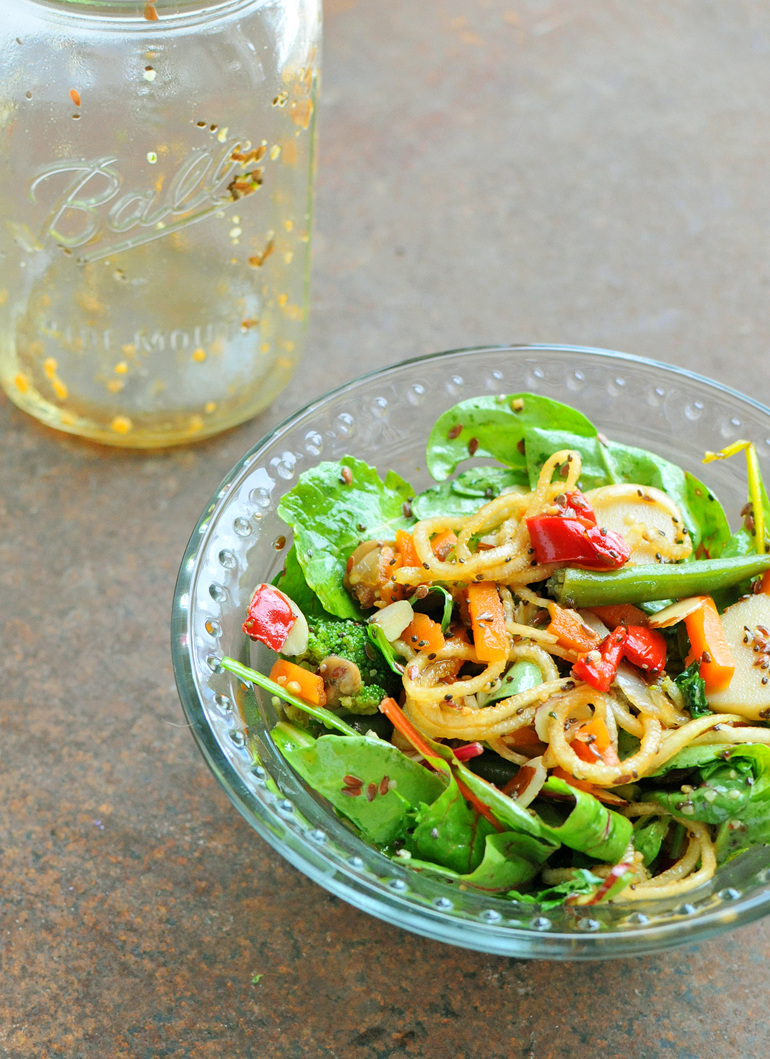 Now... what you've all been waiting for:
Giveaway (total value over $120)!
ONE Winner will Receive:
12 wide-mouth 32oz mason jars with lids
1 Inspiralizer
1 case of frozen Cascadian Farm Chinese-Style Stirfry Blend Veggies
Rules / Nitty Gritty:
Giveaway will end 4/17 at 8pm EST.
A random winner from commenters will be announced on 4/18.
Giveaway is open to blog readers in the US only.
TO ENTER:
Simple! Leave a comment below telling us your go-to work lunch during the week.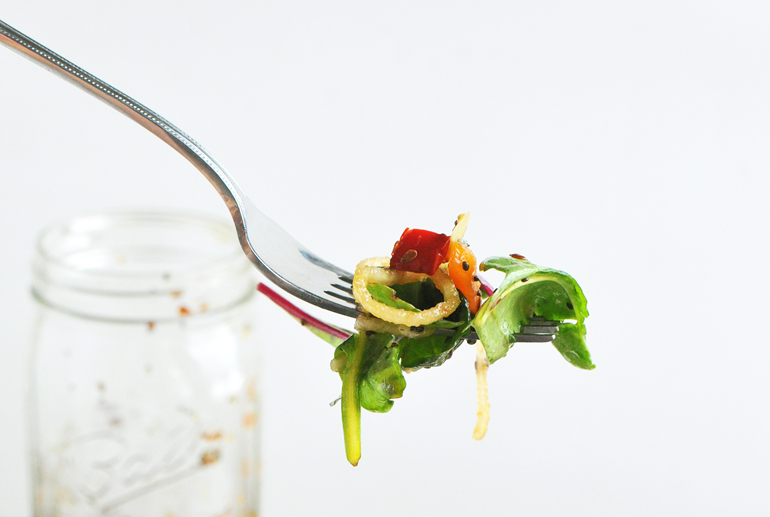 Disclaimer: this is a sponsored post written by me on behalf of Cascadian Farm. The opinions, text, recipe, and beautiful photos are all mine. Thank you for supporting brands that support Nosh and Nourish!! I choose them based on what I already cook/create with and feel 100% confident in recommending to you.
Chinese Mason Jar Salad
Description
Chinese Mason Jar Salad // via Nosh and Nourish
Ingredients
1 tablespoon
Soy Sauce (or sub coconut aminos)
1 tablespoon
Dark Amber Maple Syrup
1⁄8 teaspoon
Ground Ginger
1⁄2 package
Cascadian Farm Chinese-Style Stirfry Blend Veggies (cooked according to package)
1⁄4 cup
Sliced Water Chestnuts
2 tablespoons
mixed seeds (I used flax, hemp, and chia)
2 cups
Mixed Greens (or sub all spinach)
Notes
You can add additional protein if you'd like: 1/4 cup cooked quinoa, or 1/4 cup cooked chicken.
Instructions
Combine your sauce ingredients in a small bowl: soy sauce through garlic. Stir, and then pour it into the bottom of your 32oz mason jar. 
Layer the jar: sauce, spiralized pear, roasted veggies, single layer of water chestnuts, seeds, almonds, and mixed greens. 
Pack it tight and close the lid. Keep it upright for storage and transport. 
When you are ready to eat, empty the contents of the jar into a large bowl and mix it up. 
Enjoy!
Yields 1 Jar