Here's four simple snack ideas your family will love! Just start with a honey RITZ cracker, and then stack it up with a variety of yummy ingredients! The combinations are endless.
You can create something delicious to snack on with very few ingredients and very little effort.
Get creative!
See what you have on hand, and start stacking it up.  
And watch your family gather 'round and gobble them up.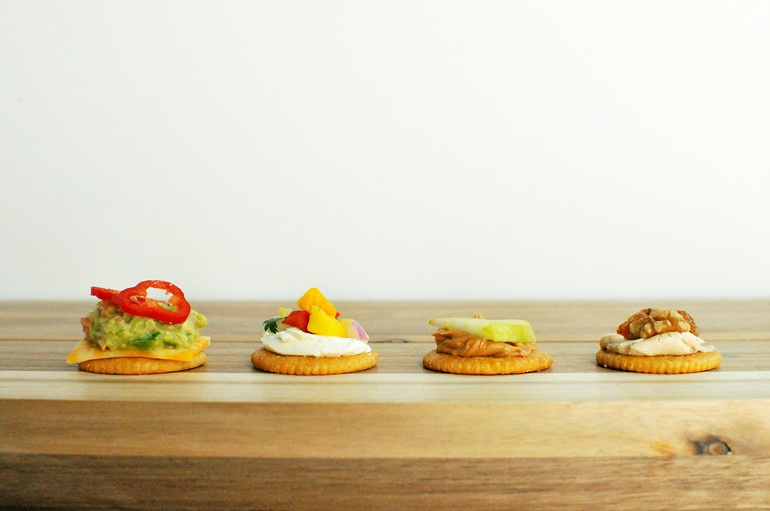 '
My favorite combo is this Cream Cheese & Mango Salsa RITZwich. So simple. But so delish.
Ingredients:
1 package RITZ Crackers (I like the honey version because it uses actual honey to sweeten it, rather than high fructose corn syrup.)
1 package plain Cream Cheese 
1 package of Safeway Signature Mango Salsa (It's sold in the produce section, near spinach.)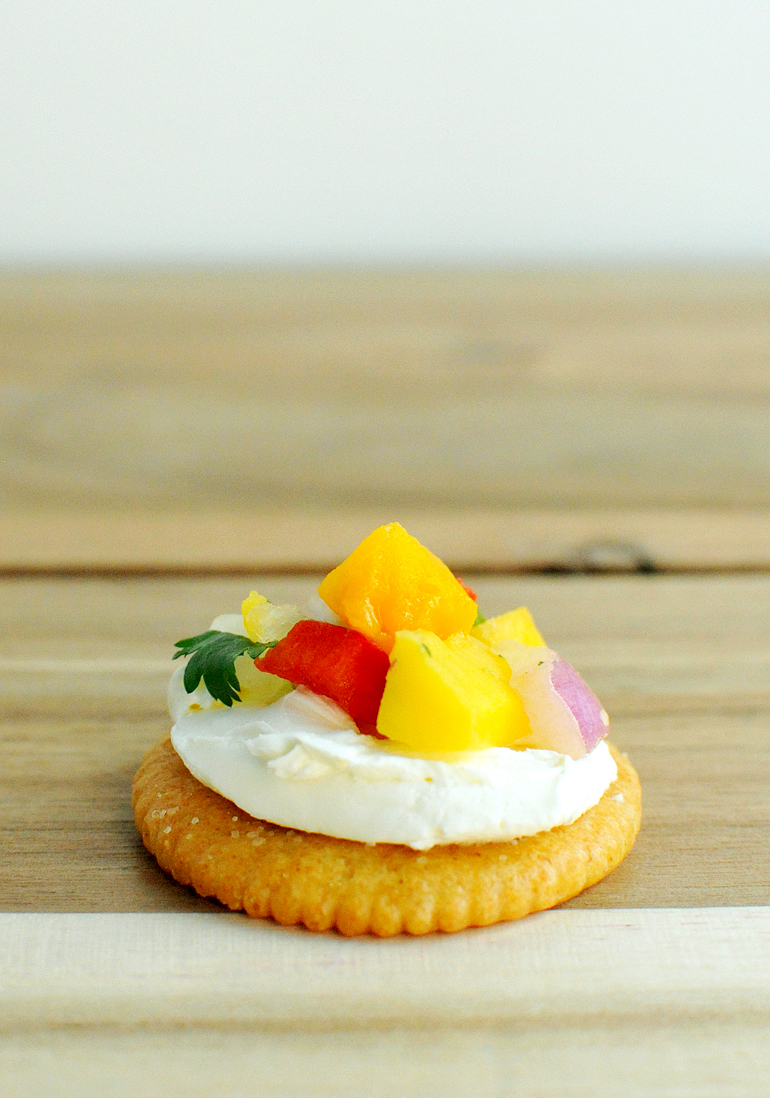 Next up is a sweeter one with nuts and dried fruit. 
Ingredients:
1 package RITZ Crackers 
1 package Cinnamon Cream Cheese 
1 package of walnuts
1 package of golden raisins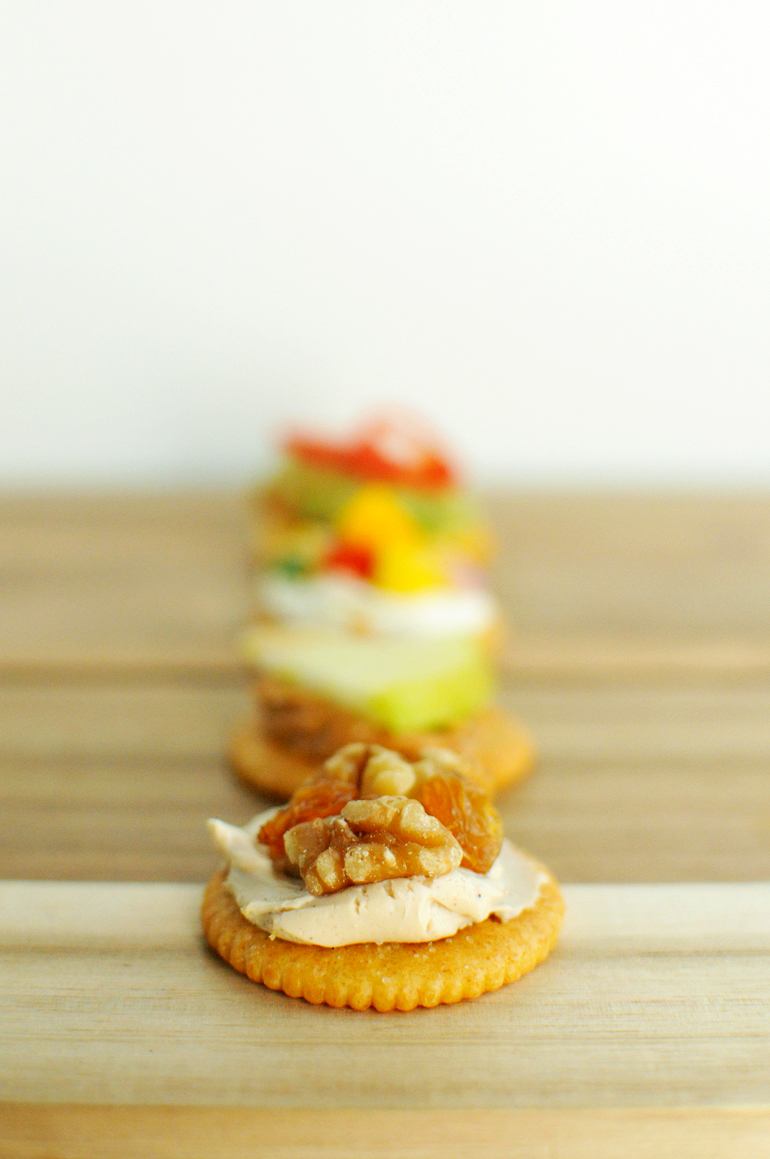 NOTE: you can make them more of a "sandwich" by adding a second RITZ cracker on top, or eat them open-faced, like I prefer to do. I like seeing all the pretty toppings, and don't feel like I need the extra cracker!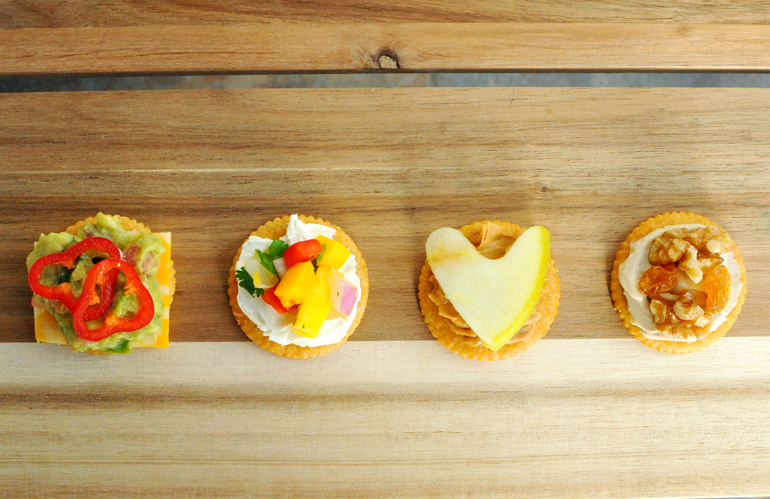 Other combinations:
RITZ stacked with cheddar jack cheese, Safeway guacamole, and sliced sweet pepper
RITZ stacked with peanut butter and a thin apple slice
RITZ stacked with queso fresca, chipotle peppers, and cilantro (see video below)
Question:
What combination of 2-3 ingredients would you stack up?
This is a sponsored conversation written by me on behalf of Safeway. The opinions and text are all mine.
Ritz Stack it Up Ideas
Description
Stack it up with Ritz // simple snack options your family will love!
Ingredients
1 package
Ritz Honey crackers
1 package
plain cream cheese
1 package
Safeway Mango Salsa
Notes
Other combinations include:
RITZ STACKED WITH CINNAMON CREAM CHEESE, WALNUTS, AND GOLDEN RAISINS
RITZ STACKED WITH CHEDDAR JACK CHEESE, SAFEWAY GUACAMOLE, AND SLICED SWEET PEPPER
RITZ STACKED WITH PEANUT BUTTER AND A THIN APPLE SLICE
RITZ STACKED WITH QUESO FRESCA, CHIPOTLE PEPPERS, AND CILANTRO 
Instructions
Spread a thin layer of cream cheese on top of a Ritz cracker. 
Add a spoonful of mango salsa on top. 
Repeat. 
Devour!
Yields 24 Servings